Hard Rock Hotel Pattaya


Entertainment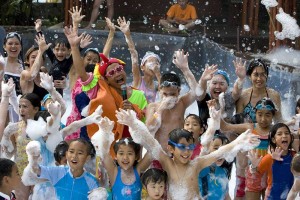 Activities! Games! Entertainment!
Fun, fun, fun! Hard Rock Hotel Pattaya has something for everyone. Whether you're into splashin' fun, dynamic club dancing or into sports, our Rock Agents will delight you with a wide array of Roctivities.
Let there be Rock… and of course, Rock-tabulous fun to boot!
At the hotel and the pool
Enjoy daily activities by the poolside including Rock Climbing, Walk on the Water, Giant Ball, and many more.
Every Saturday: Family Foam Adventure takes place from 4-5pm followed by live music by the pool by our in-house band. Then jump into our Legendary Pool Party from 8.30pm till midnight!
At Hard Rock Cafe Pattaya
Every evening, the music fills our Moon deck, an elevated deck overlooking the beach road and the sea a little beyond, with an over-sized  Jacuzzi, and with restrained lighting at night to create that special mood. A little later, indoors, the resident band plays live their repertoire of classic rock, alternative & indie jams, and classic party tunes.